Art Club
"I hope they take a sense of community and friendship."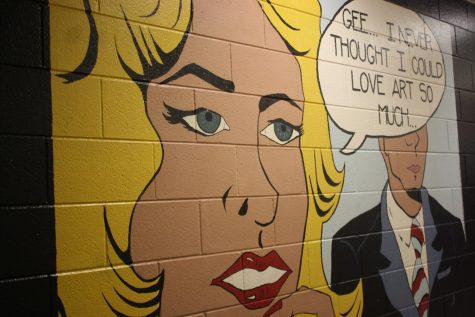 The art club here at Smoky is open to anyone, regardless if they're taking a class or not, so they can work on their art and have a safe place to go to.
Liz Kaplan is one of the art teachers here at Smoky and she's also the sponsor for art club. The club meets every Tuesday at 3:30 in room ll-801. Around two to eight kids attend but it depends.
Although the club is mainly about art, Kaplan hopes that students get more out of it. "Autonomy, that they are capable of doing art without a structured class. I hope they take a little bit more problem solving skills to figure out how to get art into the world, and not just have it be a school assignment and I hope they take a sense of community and friendship."
You gain independence and you find your own voice in art club. "Students are able to kind of work on what they want and there aren't real rules for art club. In terms of style, or you have to do this or you have to do that. Stylistically. I'm just there to assist if people need help but it's all student run."
While Kaplan focuses on making sure that the students produce a piece they're proud of and it communicates the idea they're going for, she also likes to give back to the community.
Project Angel Heart is an organization that prepares and delivers food to people that are living with a life threatening illness. Each meal is specifically tailored for each person depending on their medical needs.
Kaplan has worked with her students that participate in the club to help paint and design bags for Project Angel Heart. It's a good way to give back to the community and she wants to work with the organization again soon.
It teaches kids how easily you can give back to community and make someone's day better.
The art club is currently working on a mural in the Pro Start hallway and it's another example of how the art club is giving back to the school and its community.