How Yoga can Help with Academics
Yoga is a source of stress relief for students.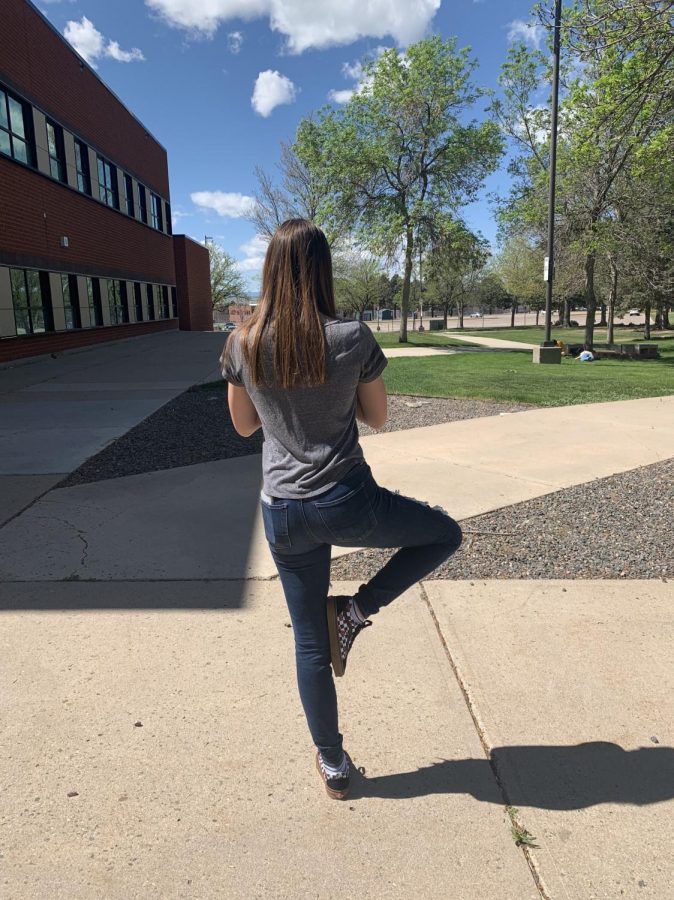 Teagan Van Etten, staffer
May 17, 2019
Yoga is the process of contorting your body into different positions usually absent in everyday life, although painful at first doing yoga can lead to a multitude of benefits besides exercise.
"Yoga classes at smoky are educational" Said Chelsea Picone a Freshmen as Smoky Hill.
Yoga is counted as a P.E. credit, even when students benefit academically from taking the course.
Picone said,"Yoga helps me become more flexible and focused. I would say it helps me to be mindful after I have the class and helps me to relieve my stress from classes and stresses from home because I am very stressed at home."
Yoga for Chelsea was a way to recover from a knee injury she suffered earlier in the year.
Chelsea said, "When I do yoga I first I feel stressed but the longer I hold a certain pose the less stress it makes me feel. It makes me feel like I lifted a weight off my shoulders, stretching and using your muscles relieves any stress on the body and makes me stronger and happier."
Yoga is one of Chelsea's favorite classes and she really wants to take it again next year because it helped relieve her of a lot of stress from school.
Allison Howell a freshman at Smoky Hill believes yoga helps only with days that are stressful. Her favorite part about the class is being able to relax after a rough day and have fun with her friends that are also in the class.
"We do meditation on Mondays, and then on Tuesday we talk in a big circle about things that are affecting us in school, and on Wednesdays we work out, and on Thursdays we do an even harder workout, and on Friday we sleep and do work for other classes," Howell said.
Howell wants to join the girl's softball, volleyball, and basketball teams in her sophomore year. She plans on continuing to take yoga for her next year at Smoky, since for her it improves her athletic ability.
Howell said, "I want to take yoga next year again because it will help me be more flexible and help me relieve stress, because I'm always stressed and overall it's a fun class and I recommend taking it next year to anyone who is looking to do a sport because it can really help you in working harder at it."
Most people might think yoga is just something to do when your bored but it can actually help with so many things. I want other people to take it because no one is perfect and everyone deserves to have fun and be happy.