Gossip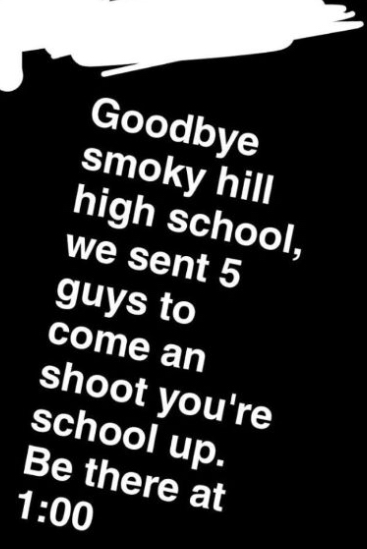 Hang on for a minute...we're trying to find some more stories you might like.
Gossip
An Opinionated Piece
By Andrew Guerin
As you sit at your desk working on the assignment, the speaker begins to broadcast a teachers voice saying to get all the students outside inside. Moreover you hear a classmate saying that he heard that someone is going to threaten two schools in the area Friday. Though as the lockdown drill ends and you go home, you realized that someone is gossip made matters worse by startling everyone who heard it.
If you didn't know, Smoky Hill High School went into lockdown drill mid 3G and ended late 3G on February 24th 2018.
The Principal of Smoky Hill Chuck Puga sent a voicemail  to parents addressing the threat to Smoky and what happened."I wanted to make you aware of an ongoing investigation of an unsubstantiated snapchat threat made to Smoky Hill High School within the last hour.  We immediately contacted the Aurora Police Department and we are working with them to ensure the safety of all students and staff at Smoky Hill High School.  We were placed on secure perimeter for about 30 minutes as a precaution.  You will see an increased presence from the Aurora Police Department the rest of the afternoon.  The safety and security of our students and staff is always our highest priority.  We will update you if more information becomes available."
Although this is a very real issue and can be seen as either a joke or a real threat
untrue gossip has spread on more threats to Smoky Hill, although the claims about the threat were shown to be untrue.
During the lockdown drill students spread gossip about how the apparent school shooters were outside, or that they had already entered the building. Students don't need to be more afraid during times like these, and if these rumors come your way you should try to comfort those who are truly worried about the threat.