Family Through Shoes
How is shoe culture changing the game for students?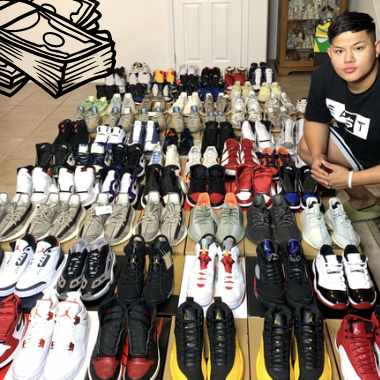 Kalani Winchester, Staffer
December 18, 2022
Shoe culture is more and more popular with the younger generation, Gen Z. It draws in so many views of modern society. In today's generation, people are getting more and more desperate for the newest kicks. In recent years, people have waited in long lines for Sneaker Con, to acquire the sneakers they've been seeking most. Nowadays, people are willing to pay so much for them, it's like an addiction.
This turns into a competition of who has the craziest shoes. Dylan Sangly is a huge sneaker fanatic who is also a social media influencer (@dsangly via Instagram).
"Being in a sneaker community is always something I've been passionate about, it has given me many opportunities to meet new people and make new friends," Sangly said.
According to CM Library, studies have shown that having common interests or passions helps you have people you can talk to and connect with.
With friends with common interests, you can show off your creative skills with all your outfits.
"Shoes have allowed me to match and spice up my fits," T'aaron Ashton (10) said.
Being able to come up with many outfits that stand out and look creative has many benefits. It can make you feel good about yourself and boost your self-esteem as stated by Brightwater "5 Big Benefits of Creative Expression".
Natalya Roman, a sophomore at Smoky Hill High School, says,
"My outfits look even more cute with my shoes," Natalya Roman (10) said.
This implies that shoes have a big impact on your outfit and how it looks. This goes to show that shoes have a huge impact on teens. From sparking creativity to making many friends of many different backgrounds or heritage.