Jellybean Count in Activities
First Priority hosts a fundraiser
First Priority is hosting a jellybean count during both lunches in activities for the rest of this week, Monday, April 20 through Friday 25, to raise money for a new heart defibrillator in the school. One guess costs 50 cents, and three guesses costs one dollar.
"[The winner will be announced] Over the intercom sometime next week or the week after, depending on if announcements run during PARCC," junior Elisabeth Bristol, President of First Priority, said. "We will also be delivering prizes to the people who win that week."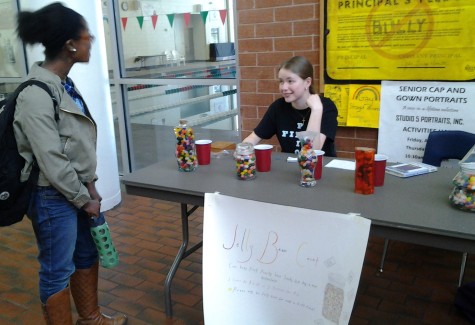 The person who guesses the amount of jellybeans in the jar closest to the actual amount will win the jar full of jellybeans and a gift card, which varies depending on the jar. There are five jars of different shapes and sizes from which students can pay to place guesses on.
"We have five dollars [gift card] to Walmart, Chipotle, Target, Chick Fil A, and a ten dollar to Starbucks," Bristol said.
However, First Priority's fundraisers do not end here. According to Bristol, the club is not likely to raise enough money for the defibrillator with this activity alone. Therefore, First Priority plans to hold another fundraiser in the future to add to the funds. The fundraiser for the future is currently unknown; The club is in the process of deciding.
"We will probably do something with Extreme FEST next year," Bristol said.
For more information on First Priority and the heart defibrillator, check out https://smokynow.com/first-priority-club/.