Christmas In October!
Are stores taking Christmas too far?
Hang on for a minute...we're trying to find some more stories you might like.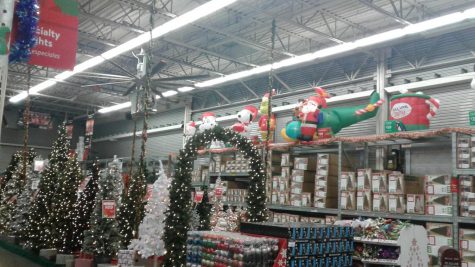 Merry Christmas, Smoky Buffs! I say that not because I've lost my calendar — or my mind — but for the simple fact that Halloween is exactly three weeks away yet, Christmas decorations are already up… Wait what?
You've seen the Halloween How-To's on social media, the ads on TV, and you've experienced what may seem like endless aisles of costumes and candies stocked in your local Wal-Mart, yup it's that time of year once again. Time for pumpkin carving. Time for costume picking and most of all time for trick-or-treating so what's up with the Christmas decorations?
You enter your local Wal-Mart, looking for your next Halloween costume or simply getting a bag of candy then turn the corner and all you see is animated Christmas inflatables, decorated Christmas trees and let's not forget all the yummy treats like candy canes and gingerbread houses.
It seems people used to gripe about Christmas decorations popping up before Thanksgiving. Now you can't go to Wal-Mart to buy a bag of Halloween candy without risk of impaling yourself on the rack of a 48″ LED-lit animated yard reindeer.
Had we been more mindful, we might have seen this coming.
Well to look on the bright side of things, here are several reasons to embrace this inevitable change.
1) We will no longer have to complain about neighbors who never take down their Halloween/Thanksgiving/Christmas decorations, because twinkling lights and inflatable red, white and blue cupids carrying eggs, pumpkins and turkeys in a black, red and green dreidel-shaped sled will be omnipresent.
2) The Bible does not give the exact date Jesus Christ was born. Might as well just celebrate the whole year and call it good.
So what do you think, are stores taking it too far by putting Christmas up this early? We want to know! Comment below.