Undefeated Team heads to playoffs
Smoky Hill's Football team heads to playoffs
Eyoel Naizgi, Staffer
October 25, 2018
Hang on for a minute...we're trying to find some more stories you might like.
The story of Smoky Hill football has been changed. They are not the losing team anymore. They have one of the best records imaginable. I had a chance to talk with football coach Kelton Coppinger and he said, " I am happy with the progress of the team over the years. They have set goals for themselves and they are pursuing those goals. They have learned to communicate with each other and play as a team." This year of football shows exactly what a team should look like. They have learned over their mistakes from past years and they have improved upon them.
DeAngelo Horn is a wide receiver for our varsity team. He is a sophomore and he also played varsity as a freshman. He experienced the bad and he good equally and he had the chance to be coached by two different coaches. " I have had the opportunity to be coached by two different kinds of people and two different play styles. This gives me a better view of the game and it has made be a better player," Horn Said. DeAngelo hopes that this good work will continue onto next year and that they keep their amazing record.
Finally, Danue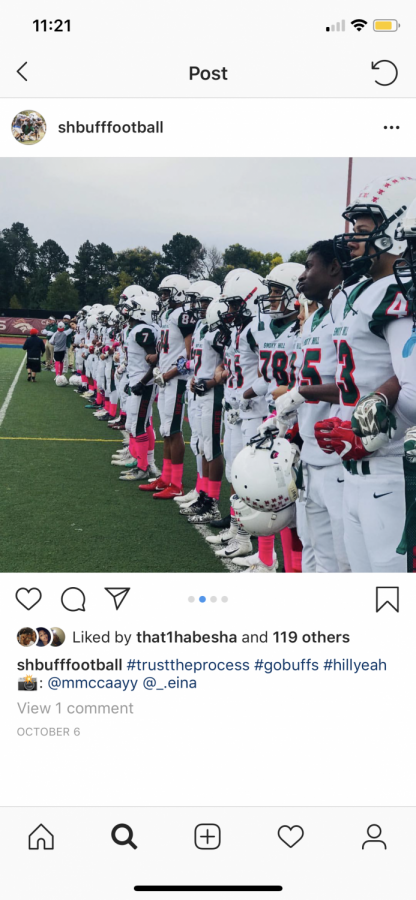 l Smith, a sophomore running back for the varsity buffs. He also played as a freshman and experienced two different coaches and their playing styles. He is proud with the growth of the football team over the last year. Smith said, " I like how the team has come together and is now able to work as a team efficiently. Last year people liked to play by for themselves. This year everyone plays for each other and they don't focus on themselves. They focus on the team."