Tragedy To Safety
Some People Say Some Drills Aren't Enough Anymore.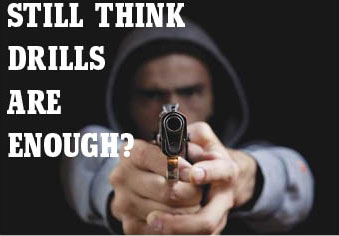 Hang on for a minute...we're trying to find some more stories you might like.
On February 14, 2018, Stoneman Douglas (SMDHS) in Florida was the site of a mass shooting. Just six weeks prior, the school had the teachers go through an active shooter training. At least one teacher credits the training he has received that helped save student's lives.
Smoky Hill does not do active shooter drills, and consider lockdowns to be the primary drill for emanate danger.
The FBI's 2013 report, published with the Federal Emergency Management Agency, suggested schools look into further training and that having and doing a normal lockdown drill isn't enough anymore. The report also suggested doing anything possible to protect a student.
Students at Smoky agree.
"I think that drills during passing periods should be practiced more so then if something were to really happen, then we would know what to do," freshman Sami Villasana said.
Colorado does not require active shooter training, but allows a school resource officer to be present within the school. A peace officer who has specialized training would have to attend to all the threats in the school, they are also allowed to carry weapons with authorization to do so. Education commission of the states and the National Center for Education Statistics show that 6 states require active shooter drills in schools, those states are AR, IL, MO, NJ, OK, and TN.
"We meet with teachers and have safety clusters at the beginning of the year and we go over all types of crisis situations and safety protocols and then we also remind them throughout the year of the lockdown drill and safe perimeter drills," Vice Principal Aleshia Armour said.
According to National Center for Education Statistics, 43% of schools have armed security, and only 23% have armed security around full time.
Smoky Hill has seven security guards and two full time school resource offices.
"I do believe that the drills are important due to the times we now live in. When the drills are being conducted, I think that it is important for students as well as teachers to be alert and aware of their surroundings as to practice the drill as if it were real and to take it seriously," Kathleen ​Fitzgerald, a Smoky Hill American government teacher said.