The Balance of Sports and School
Student athletes struggling to balance their life with their sports and school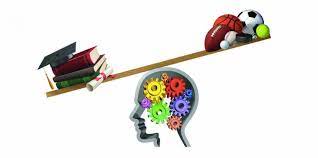 Michael Keegan, Staffer
September 30, 2022
School and sports are starting back up. Is students' mental health doing fine with their balance of school work and studying for tests while also doing well in sports practices?
"I feel like it is definitely manageable to do and as long as you prioritize your time, you can make it happen," Coach Darnell Webb said. Webb is the freshman head coach for football and knows about how much school is important for athletes.
According to Webb, for student-athletes, school and sports can be manageable by them being able to get some free time to minimize stress. You are able to have that time to be a teenager and chill and do whatever you want.
"I get an hour or two [of free time] and the students spend that time doing school work or taking care of what they need to take care of," said Webb.
Some students have dealt with going through stress because of their advanced classes and just getting an abundant amount of schoolwork. While having practice after school, students are thinking about having to get homework done and get enough sleep to feel good for the next day.
"I do homework when I get home from practice and do as much as I can on a daily average. I go to sleep around 10-11 at night," said Richjarion Hines (11). Usually getting six or seven hours of sleep through Monday and Friday, Hines said "I might get an hour or none of free time after I get classwork done,".
Student-athletes should be getting seven to nine hours of sleep to have full performance for school, practice, and games.
"Sleep is when your body repairs itself. If we don't get enough sleep, we don't perform well," said Felicia Stoler, RD.
However, the other thing student-athletes are dealing with is their schoolwork. There is school work that gets to the students like honors classes, AP classes, and other college-level classes. Hearing from some students, those classes have put a lot on their plate.
"Yeah, I feel a lot of stress because I am in two AP classes an honors class and a college class, so I get a lot of homework to do. So it is pretty stressful, but I usually am able to manage it pretty well, but recently it's been getting to me," said Hines.
High school students who take advanced courses experience more academic stress than students in general education courses, according to University of South Florida education professors.
Though there are these problems student-athletes run into, they need to have balance. If you need to focus on your school work, get that done when you can try to get it done early, so after practice, you won't have to do it and be up all night.
"My balance is good so I go to school, and then after practice, I'll get straight to my homework but it's not really stressful and I have a pretty productive time after practice," said Jaziah Hargrove (11).
All that matters is that all student-athletes need to focus on the balance of what they do. If the other athletes figure it out with advanced classes or not, it's just a manageable thing and how your mentality is towards your work and practices.