Teenagers Struggle to Balance Working and Schooling
Students Work to Balance a Social Life, Good Grades and a Job
With school nearing to an end, students who don't already have a job over the school year are looking into possible part-time jobs for the Summer. There are numerous stores near many students homes that are now beginning to hire.
Aleah Harris, a sophomore at Smoky, got her first job this year at Cafe Bagelicious on March 9. She considered the job at Cafe Bagelicious in particular because it is close to school and both of her houses, which is important since she can't drive yet.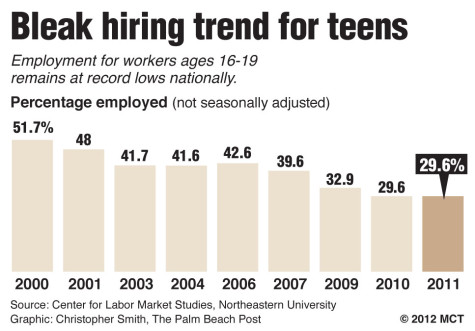 "Both of my parents started working young and put themselves through college," Harris said. "Because of this, I was raised to value hard work, and wanted to get a job and start saving as as soon as I was old enough."
In order to get the job, she had to enter the shop and ask for an application which she completed and returned to the owners. They were also considering one other person for the job. On March 7, the owners called saying she was hired and could show up on Sunday for training. Her job involves customer service, preparing food, and cleaning.
"It is difficult [to work and manage school]. It requires a lot of balance to have a social life, a job, and to be successful in school, especially being in IB, and while it does get to be stressful, it is very rewarding."
According to a recent survey by the U.S. Census Bureau, 1% of the 11.1 million high schoolers above 16 were full-time, year-round workers. Another 28% were part-time workers and most worked less than 20 hours per week.
http://www.snagajob.com/jobs-for-high-school-students/ gives help for finding and succeeding at jobs.
Leave a Comment