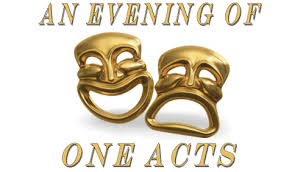 Rebekah Brazelton, Staffer

March 25, 2015
Coming soon are the Smoky Hill One Acts, on April 6 and 7th. One Acts are simple ten to fifteen minute short plays directed by Smoky Hill students. Starting at 7:15pm in the cafeteria, students can get in with 5 dollars and enjoy every second of plays, from comedic to dramatic To get into the One...
Loralee Bandy, Staffer

April 16, 2014
One Acts are student directed plays that usually last 10-15 minutes. Smoky Hill will be performing their one acts on Mon. 21 and Tues. 22 in the cafeteria at 7:15 p.m. Entry is five dollars. According to Hanna Gollan, a sophomore who plays a major role in 13 Things About Ed Carpolotti by Jeffrey Hatcher,"Samm...