Pride and Prejudice and Zombies Movie Review
Pride and Prejudice with a zombie twist.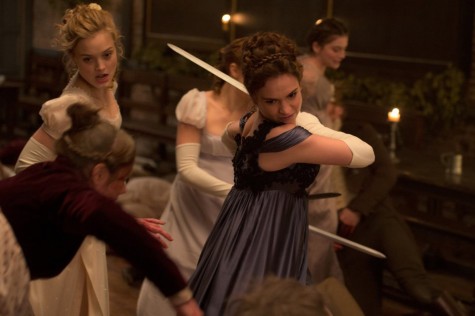 "Pride and Prejudice and Zombies" is a movie based on the book by the same name and a parody of Jane Austens, "Pride and Prejudice" which is co-written by Jane Austen and Seth Grahame-Smith.
"Pride and Prejudice and Zombies" revolves around a fictionalized zombie outbreak in 19th century England prominently focusing on Elizabeth Bennet and Colonel Darcy's relationship.
The movies itself is actually a really good movie. The actors themselves did a pretty solid job of portraying their characters. Lily James who played Elizabeth Bennet did an excellent job of showing that a girl can hold her own ground and yet still be vulnerable.
The thing I really like about this movie is how nothing is predictable. I mean, Mr. Wickham was part zombie but it wasn't really something that I predicted would happen. That part was a total surprise.
Also, I thought that there would be this big dramatic romance triangle between her and Sam Riley who played Mr. Darcy and Jack Huston who played Mr. Wickham but it was totally the opposite. It was more of her focusing on one more than the other instead of a "who do I choose" kind of thing.
What also surprised me was how much respect women got for fighting zombies. I mean they weren't exactly "equal" to men in a sense that they still had to act like conservative ladies. Take Matt Smith who played Parson Collins for instance. He told Elizabeth that in order for them to be married, she had to stop fighting but the fact that her father had her sister trained in China, shows that progress.
This movie is rated PG-13 for romance, but viewers should be aware of the unexpected bloody scenes. I rate this movie a five out of five stars for it's original story line and for how well the actors portrayed the characters.
"Pride and Prejudice and Zombies" came out on February 5 but is still currently available to see in theaters. Please see the list below for for information on local theaters that are still playing the movie.
Aurora Movie Tavern
AMC Arapahoe Crossing 16