Key Club Induction Ceremony
Join Smoky Hill's Key Club Induction Ceremony for New Officers and Honor Service Achievements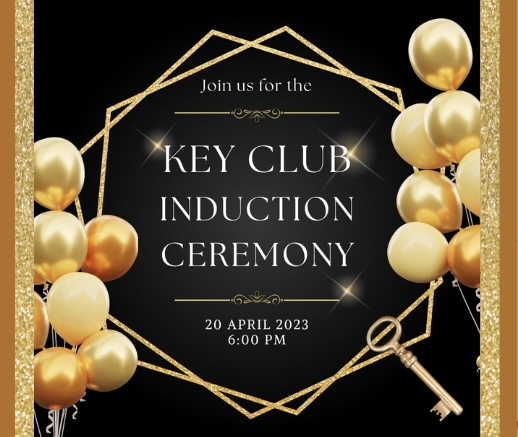 The Smoky Hill Key Club will be hosting a ceremony on April 20 in the auditorium at 6:00 p.m.
Kristen Gurzick, sponsor of Key Club, said "Key Club is a service club that has been around for over 100 years now and it leans on key leaders in the school to do service for everything from their school community. To their local community, to our international community."
The club relies on key leaders in the school to carry out service projects, from the school community to the local and international community.
"At the ceremony we will retire this year's officers and invest next year's officers. New members will be inducted and we will honor people who earned service awards. Some of our members had over 50 hours of service," Gurzick said.
Elhonei Negusu (11) in Key Club said, "So me and the rest of the other officers are planning on this induction ceremony and basically we're just giving a moment for all the rest of the members to give awards and their accomplishments throughout this Key Club year so that's what this is."
The ceremony will be an excellent opportunity for all members to receive awards and recognition for their efforts in the Key Club. "The officers have been working really hard to get all the certificates, get everything signed, get all of the pins organized for all of our new members. And they're writing speeches as they leave their officer positions and get ready to hand their position to the next person," Gurzick said.
The Key Club is committed to making a positive impact in the wider community, as Negusu said, "We do community service, but not only for the school but we also reach out to outside businesses and communities."
Negusu also shared, "we're just giving awards and medals to like achievements people have and like, some people that have like the top 10 most community service hours or like top three or something, we give special medals for them. And yeah, we're also bringing out our next year officers and inducting them basically and like introducing them, or a new president or new like roles, and then us junior officers going on to the next level."
During the induction ceremony, the Key Club will recognize members' achievements by awarding medals and certificates for their outstanding community service hours. The ceremony will also mark the transition of the junior officers to their next level of responsibility.
Gurzick said, "Something that's different this year is that we really hope parents will enjoy will join us for the ceremony as well." Parental involvement can help the club's impact on the community and encourage more students to join the Key Club in the future. The club's committed to engage with parents and the wider community in its service efforts. 
Join Key Club's induction ceremony to celebrate the retired officers this year and invest next year's officers.