Forward, MARCH!
Marching band prepares for the homecoming football game.
Hang on for a minute...we're trying to find some more stories you might like.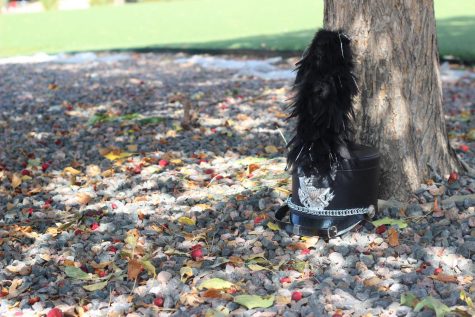 Smoky Hill's marching band, the Hill Regiment Marching Band, has been preparing over the summer and the start of the school year for the season. The Homecoming Week, Monday, September 10th-Friday, September 14th, is the first event where Smoky Hill's marching band really gets to show the school what they have been rehearsing all season for. Leonardo Gardner, Colby Powers and Zoe Huff are all working hard to get the school hyped up in the crowds.
Powers, 11, has been awed by the band since elementary school when the middle school came down to advertise the band program. Now, he's in the highest level band class and one of the leaders of the clarinet section of the marching band.
"We have a drill creator and he basically maps out wherever we're going to be and we get certain spots. It's basically just learning where you are at one point, learning where you are at the next point, and then connecting the two pieces," Powers said. "If everyone does it correctly at once, the picture is completed."
Gardner, 12, is now in his fourth and final year of marching band as a snare drummer in his high school career. He started by taking drum lessons in elementary school and drumming has been Gardner's passion ever since. With a little push from his peers, Garner is on the drum line, which to him is, "like the coolest place in the world."
"There's a lot of building muscle during band camp to get through it. But we prepare pretty much the same way we prepare anything," Gardner said.  "We practice technically and we practice slow so it will be perfect by the parade".
Huff, 9, is trying out the marching band for her first year. She plays the mellophone and french horn and feels welcome in the group.
"They treat you like a normal person. They don't treat you like a freshman," said Huff, "we're all kind of like a big family that bickers constantly."