The Halloween Experience
Halloween is a favored holiday for many children and young adults. But what if you haven't celebrated it before.
Hang on for a minute...we're trying to find some more stories you might like.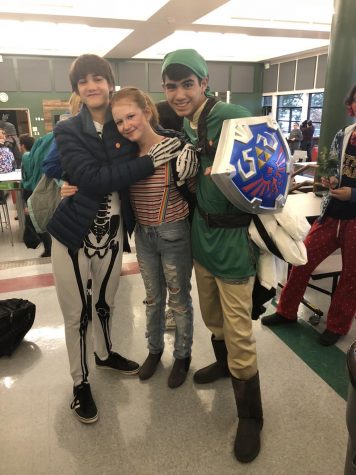 Trick-or-treating on October 31st in a yearly tradition for most American children and young adults as they run up to doorbells and say, "trick or treat," for the reward of candy.
Trick-or-treating is often a group activity that many children and young adults enjoy  doing with their friends, but for Alejandro this year is his first time going trick-or-treating with his friends.
Alejandro Radio Rios is a sophomore at Smoky Hill who lived in Venezuela before going to Smoky Hill his freshman year, and had only experienced Halloween last year, "Because I haven't gone before, because in Venezuela there is no Halloween there."
Alejandro doesn't plan to go alone on Halloween however, he plans to bring two students from trick-or-treating with him.
Rylee Holt is a freshman and one of the Smoky Hill students who are taking Alejandro trick-or-treating after she had heard that he never went with friends before, "Because I said what are we doing for Halloween are we going trick-or-treating and Alejandro was like what is that and I was like oh we are taking you then."
Rylee is not the only friend who will join Alejandro on Halloween, since he is also going with a fellow student nicknamed Cora.
Coraleigh Quattlebaum  a sophomore at Smoky Hill who also joined Alejandro  trick-or-treating and has worries during trick-or-treating,"I feel like he won't say trick-or-treat and will say something else that will confuse everyone."