Swimming Preseason Camp
Lets get ready to make a splash Buffs!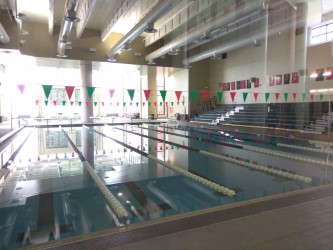 Hang on for a minute...we're trying to find some more stories you might like.
The swimming season is back for our water buffs and to get the season started there will be a preseason camp.
Starting Oct. 9 in the Smoky Hill pool going through Nov. third going everyday from 3:45 p.m. through 5:15 p.m. although there will not be practice over fall break.
All Smoky students interested in becoming a water buff is welcome and encouraged to attend. Preseason camps are great for anyone who isn't sure if they want to commit to see some of what you will be participating in but they are also beneficial for those with experience.
With the goal of the camp being to improve of course, technique and conditioning will be focused on mainly and once the camp is completed participants will have head start going into the season.
Even with attendance being optional, camp is highly recommended on the account of regular season only containing 12 weeks and having every one of those weeks being quite fierce.
The cost is thirty five dollars for a three week camp with all checks made payable to "Smoky Hill High School". Do not turn in your checks to the Athletic Office, coach Scott Cohen will be taking checks at practice.
If you have any questions contact coach Scott Cohen at 720-886-5557