Histories Project
Students in Mrs.Lubowicki's AP class does a Histories project
Hang on for a minute...we're trying to find some more stories you might like.
Students in Mrs. Lubowicki's AP English Literature class have been working on a histories project based off the book The English Patient, which the students were currently reading. Students worked on the project as an end to the books unit.
The project needed to contain a base text that students related to in some way, or which had a special meaning to them. They could choose from a few pages from their favorite book, a song they love, quotes that mean a lot to them, or photographs and artwork.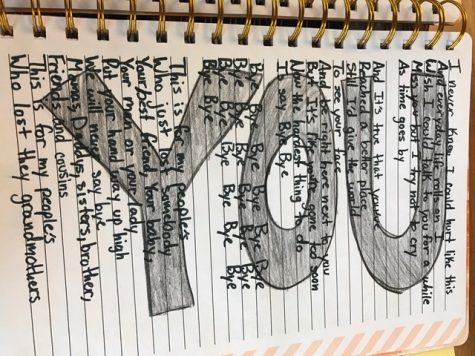 After students found a base text, they needed to add a pillar into, around, or over their base text that helped them shape their identity. They could add quotes, pictures, or any other creative idea that helped identify the things that shape their identity.
"My base texts were all Mariah Carey songs that I highly related to. As far as the songs meanings, there are three different meanings that I put into the text," senior Jazmin Duren said.
At the end of the project students needed to write a short reflection on one specific moment in their life that really shaped their identity. The essay was limited to 500 words, and students had to do more than simply list the things that shaped their identity. They had to detail why these things were important, and include their reasons in the project before turning it in.
"My essay summarized my struggle with being a multiracial child, and how I didn't love myself or think I deserved to be happy," Duren said.
On the turn in day for the project, students had to present their project in front of the class and discuss some of the things that had shaped their identity.
"During the presentation I basically discussed my base text and how I related to it, and some pillars about how I struggled with being a multiracial child and some of the big events that happened in my life that helped shape my identity," Duren said.
The project was worth 50 points. Students were graded on creativity and interaction with the text via other text (15 points), the written reflection (15 points), correct grammar, spelling, and punctuation in the reflection(10 points) and their overall presentation of the project (10 points).