Friendship Cup
It's scorching hot on the school's parking lot pavement as I'm hustled out from the hectic rush that was in the band room. Every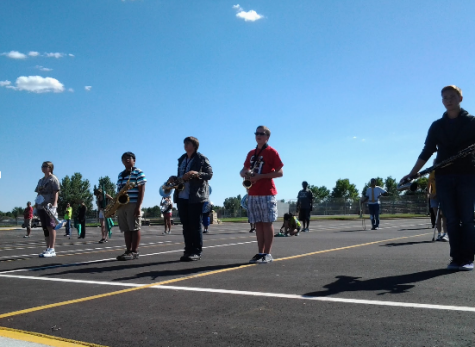 Tuesday and Thursday after school, the marching band groups together on the parking lot for an afternoon of practice. They are currently practicing for this Saturday's Friendship Cup in Englewood. The Cup is like an invitational, and Smoky's marching band – including the color guard and pit – will be competing against other schools.
"Last year we did win Friendship Cup, and we brought home a trophy," says Senior Mekayla Cotton, the drum major for marching band. "I'm hoping for that this year."
Cotton has a busy job as the drum major. She does whatever Mr. Ruffert, the band teacher, needs her to do. This includes telling band members what they need to be doing during practice, and ensuring that everyone has what they need. She will check to make sure they have their equipment, food, sunscreen in the Summer, and coats in the Winter.
"As the drum major, I conduct the marching band," said Cotton. "That's the main job that everyone sees me doing. A lot of my job involves picking up after the band. I do whatever Ruffert needs me to do. I feel like the band's mommy."
Helping to prepare the bands for the competition has been quite the workload. Their performance is judged for various categories, such as individual marching. They have music, new drills, and step formations to practice and perfect.
"[We've been practicing] All of it," describes Cotton " That includes our opener, ballad, and closer. We have our own original writer. He's a friend of Rufferts and writes all of our music for us. That makes the difficulty level good."
Practicing all of the music and focusing on so many different aspects can be difficult, but it's also seen as worth it. Marching band is known for bonding and feeling like they've accomplished something great together.
"The thing I'm looking forward to most is after the qualifying," said Cotton. " Getting to see them all together and smiling, looking like they've accomplished something."