Finding a Replacement Head Coach for Girls Volleyball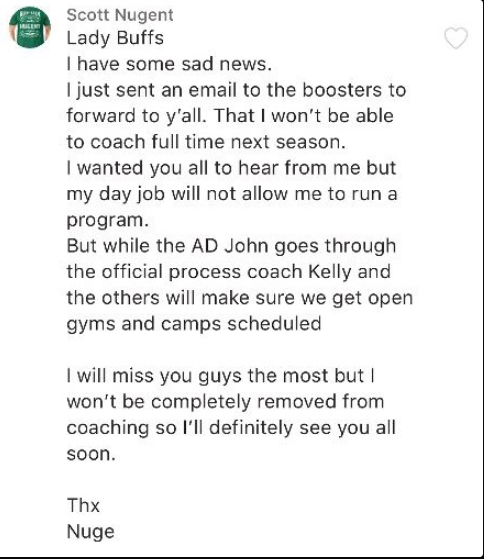 Andrew Guerin, Staffer
April 7, 2019
Hang on for a minute...we're trying to find some more stories you might like.
Scott Nugent the head coach for girls volleyball had recently announced his leave over the messaging app GroupMe, and will no longer be the head coach for Girls Volleyball, which will leave an open gap with high expectations from the girl's on the team.
One such player on the girls Volleyball team is Bethany Sapp a senior at Smoky Hill who played under Nugent for one year she said, "he's really good at kind of like pushing you to do your best."
Sapp wasn't the only girl on the team who found that Nugent as a good coach who wanted for them to do their best.
Another player on the team named Mackenzie Sjerven a junior at Smoky Hill said, "I really liked him we never had a problem with them a lot of people he'd get really mad at games but he just did that cause he just had faith in us. I don't know I liked him."
It was a surprise to both players that Nugent was leaving because he had just got there. Sapp said, "I was kind of shocked I didn't really expect him to leave he like just came. I think my sophomore year or my junior year we got a new coach and he just got here so it's kind of shocking that he is leaving all the sudden."
Sjerven agreed that it was frustrating to keep having to get replacement coaches.
Sjerven said, "It was upsetting just cause we had to go through already getting him as a new coach and then now again getting a new coach again is kind of upsetting and I have no problem with him and it's just it's like we have no idea who the new head coach will be."
Both girls find this as an opportunity to get a new head coach that will be stricter on the volleyball team.
Although Sapp will most likely graduate by the time the team gets a new head coach, she has high hopes for a more stricter head coach for her sister. Sapp said, "Well I'm not going to be here but my sister is hopefully going to play and I kind of hope that they're a little bit more like I guess serious we let a lot of people like come in late and I hope this one's a lot more strict like with their consequences for a lot more things."
Although both team members want the coach to be stricter, they also want them to be nice to the players. Sjeven wants the new replacement head coach too, "be hard on us but also like form good relationships so that they're not always yelling at us."