Club Authorization Requirements
How to get your club up and started..the right way
Hang on for a minute...we're trying to find some more stories you might like.
There are many clubs at Smoky Hill. All of the clubs however, are required to be authorized by the activities directors.
There are over 50 clubs at Smoky Hill and ways for students to make their own. Throughout the school, there are advertisements about clubs that students will be able to join. However, students at Smoky Hill may not just start a club without the director's permission.  All of the fliers at the school need to have an authorization stamp from the activities office.
To make a club students are required to have an adult from the building be in charge of your club. They will also need the activities director's approval. The activities held at the club must be school appropriate and be able to help the Smoky Hill community in some way.
"Clubs that are not authorized through us, are not permitted to run," said activities assistant Carol Whitaker.
A club that is known as 'The Big Boys Club' has put multiple fliers around the school, but due to the fact that they were not authorized by activities, their fliers are still being taken down.
The club was for football players who are 200 pounds or over to come and eat food and basically hang out. Due to the fact that the "club" did not go through activities to make it an official club, they are not approved to hold any meetings or have any sort of association.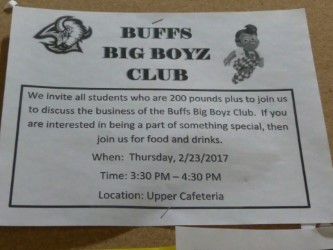 "The club was a good way to get linemen together and start a community, the coaches would pay for the food, " Junior Tyler Greco said.