Choir Retreat
Junior Adelyn [Addy] Himle eagerly awaits and prepares for the annual symphonic choir retreat, which takes place starting September 18 and ends September 19. The retreat is a charter bus drive away to Long Scraggy Mountain, and the choir students love to bond over the fun activities and campfires which take place during the retreat at the start of the school year.
Himle is participating in two choir retreats this year. The first is the advanced choir retreat that she's joining as part of women's jazz. It starts September 5 and ends September 6. The second is with symphonic choir – and she's been waiting for the opportunity to go since her freshman year of high school. She's currently preparing for the event.
"I'm writing letters to the people in my choir and I'm packing my sleeping gear and practicing my music." says Himle.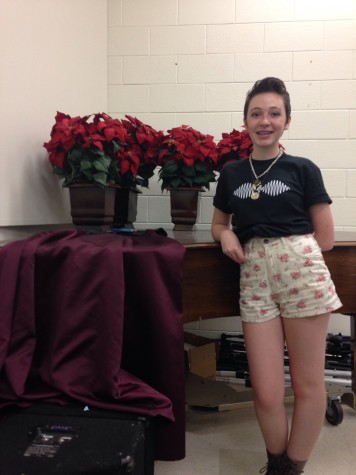 Choir has been a significant part of Himle's life ever since she joined at the start of 6th grade in Laredo Middle School.
"I like [choir] because you make a lot of friends, and I've been friends with people in choir since 6th grade," Himle states. "We learn a lot of new skills and techniques. Not only do we learn singing techniques, but we learn to work together, like teamwork skills."
Of all the songs assigned so far this year, including music for All-State auditions, Himle's favorite piece is The Blue Bird.
"We're doing one called The Blue Bird. The harmonies are the most beautiful thing I've ever heard."
Half of Himle's classes this year are performing arts classes, showing her dedication to the arts. Besides performing in choir concerts, she plays roles in the school plays and musicals. Inspired by professionals whom she knows she can be as good as someday, Himle strives to improve in her skills and performances. She will continue to participate in the performing arts, particularly choir, throughout the remainder of her high school experience.