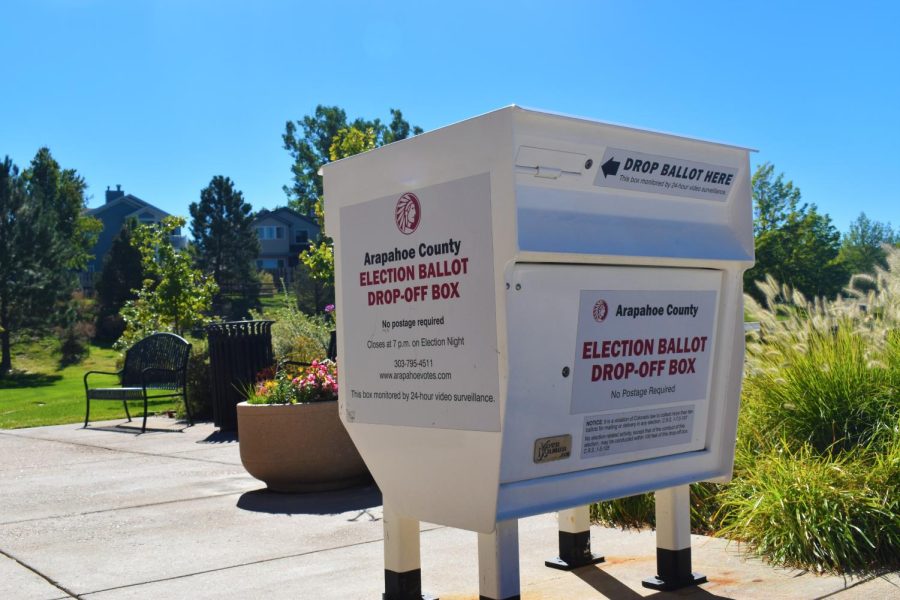 A Complete Student's Guide: How to Vote in the Upcoming Midterm Elections
The ultimate guide on how you can vote in the upcoming midterm elections
"Democracy doesn't really work unless you vote," Grant Kleiber (12) said. "[To be] represented by your congressman, and that's important for me, so I want to put my voice out there." Kleiber is not the only one who finds voting important, according to the United States Census Bureau 154.6 million registered voters cast a ballot in the 2020 presidential election. 
As the November election season rapidly approaches with heavily energized voters from both the democratic and republican parties concerned mostly with abortion and inflation- how can the one hundred and seventy-four 18-year-old students here at Smoky Hill register and vote in the upcoming midterm elections? Well, Colorado has made voting easy in many respects, so here are the steps that Smoky students can take. 
The first step is knowing whether or not you are eligible to vote in the midterms. There are 4 requirements to be able to register to vote, you must be:
A citizen of the United States;

A resident of Colorado for at least 22 days immediately before the election that you intend to vote in;

18 years old on or before the election day(If you are 16 or 17, then you can pre-register to vote which is typically done through a DMV, although you will need to be 18 years old by the day of the election to actually vote in a primary or general election);

Not serving a sentence for a felony conviction.
A "residence" will also be needed in order to fill out the registration form, whether it be a business address, house address, homeless shelter, homeless provider, park, campground, a vacant lot, or any other place where that voter regularly returns to with an intent to remain. 
Assuming all of those requirements have been filled, the second step is to register to vote. In the state of Colorado, there are three different ways to register. In both the online and paper registration options, you will need to have either a valid Social Security Number(SSN), a Colorado driver's license, or a Colorado ID card to successfully complete it.
Kleiber explained that online registration was extremely easy for him, "all you have to do is put in what you want to be affiliated with [whether it's] Republican, Democrat or unaffiliated, and then your social security number, and like, that's it." You can submit online registration by October 31st, 2022 on the official website here. The second option is to fill out a paper voter registration form here, and have it sent by October 31st, 2022. After filling out the form, you can send it through mail, deliver it, or send an email with a scanned copy to your county clerk and recorder. 
The last and final way to register to vote is through an in-person location by November 8th, 2022(Colorado allows same-day registration when voting). There are numerous places that will be offering their services to register, as Colorado Secretary of State Jena Griswold states:
"A Colorado Department of Motor Vehicle office when you apply for a driver's license, or when updating your driver's license information;

     Offices that provide public assistance, including offices that provide state-funded programs primarily engaged in providing services to persons with disabilities;

     Recruitment offices of the armed forces of the United States;

     Any federal, state, or local government office or any non-government office that chooses to provide voter registration service or applications; or

     A voter service and polling center."
You will need to bring a valid government-issued photo ID with you to register in person, and if you do not have one then you can use a birth certificate or naturalization document, or any government document that shows your name and Colorado address such as a bank statement, current utility bill, etc. 
After being a confirmed registered voter, you will receive a ballot through the mail 15 to 20 days prior to an election. You will need to fill out that ballot to vote by mail or through a drop-off box. You may also request a replacement ballot from your county clerk if your original ballot is damaged or lost or you can vote in person at a polling booth instead. If you have any questions on how to fill out the ballot, CBS 8 San Diego has made a video guide that easily explains all you need to know about filling out the form.
Since this will be the first time you have registered to vote, you may need to provide a copy of your ID along with your ballot if you choose to mail it in. Your county clerk will have provided you with instructions regarding the ID requirement along with your ballot. 
In-person voting is important to many voters too, and as Griswold told CBS News, "[Colorado] expanded voting centers and increased our security." So, if you choose to vote in person at a voter service and polling center, then you should search up where the locations will be as they vary by county. The centers will be open 8 days prior to an election, with hours typically from 8 a.m. to 5 p.m. But on the actual election day, the voting centers will be open from 7 a.m. to 7 p.m.
Since you will still receive a ballot through the mail, you may return your ballot and vote in person, even if you do not return your mail ballot you can still vote as your county clerk will not accept any ballot that was mailed to you once you have voted in person. What you will need is identification to vote at a voting center, which could be a Colorado Driver's License or Colorado ID, although there are many other accepted forms of identification. For more information about voting in person, Griswold has made an FAQ here.
In order to vote through the mail, you should fill out the ballot you received and have it mailed out at least 7 days before the November 8th midterms in order to make sure that it is received by your county clerk in time. To be able to track your ballot, you can sign up here and get information about the status of your ballot here. If you still have questions, here is an FAQ on mail-in ballot voting.
18-year-old Katelynn Peterson plans to vote through a drop-off ballot this year, "I can just drop it in after I [have filled out my ballot] versus having to go in on this exact date in person." Luckily in Colorado, there are numerous places where she and many voters will be able to drop off their ballots to after they have sealed them. Any voter may go to a number of drop-off locations, staffer Dawson Patterson at SmokyNow has made a list of where you can find these locations. 
For any questions about registering to vote or actually voting in the Colorado midterm elections, you can contact Griswold's office by emailing [email protected] or messaging 303-894-2200. You can also go in person to 1700 Broadway Suite 550 Denver, CO 80290 between the hours of 8 a.m. to 5 p.m. on Monday through Friday. If you have other requests, here is the contact information for the Secretary of State's office.
For Peterson, voting is not just about the current events in today's society, "it's our right as Americans to be able to vote for [laws and congressmen] that can help run our country better [as] we're facing the fact that nobody wants to get along anymore."