The Magnificent Experiment
Rushing through the hall in a chair with spinning wheels is one thing, but getting graded for it and learning a lesson is another.
Hang on for a minute...we're trying to find some more stories you might like.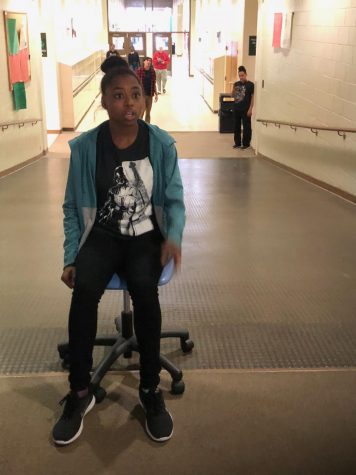 Kaylynn Moore-Wilson is an average Junior student at Smoky Hill and expected her day to be average as well, but her day suddenly changed for the better when she entered her second period on the a red day with her teacher Lexie Brodwin.
Brodwin is a Physics teacher at Smoky Hill who sat down with other teachers to find a way students can see the world in a different light,"we decided that they needed more application to realize their physics everywhere and they need to get interested and invested in the class more, and this is a great way for them to see that they can get data from anywhere."
One group decided to test velocity by sending a girl down a ramp on a wheelchair. The girl who went down the slope is none other than Kaylyn, but she was hesitant to proceed with the experiment.
"Going down the hill, that is definitely a fun adventure cause you begin to speed up and I like it," Moor-Wilson said after being sent down the ramp, "I was nervous at first because I didn't know what would happen," Moor-Wilson said.
Dominick Kelly is a Junior and is one of Moor-Wilson's group members and was the one who came up with idea to test velocity by sending a student down one of the ramps in a rolling chair, and was the one who wanted to incorporate a special something into physics.
"I wanted to do something fun in physics," When Kelly was asked how hard it was for him to get permission to do this experiment Kelly stated, "Wasn't that hard, she's a lit teacher."
Brodwin did not allow the students to do the experiment just because it was fun, rather, it was what she wanted to teach them.
When asked how the experiment can relate to the real world, Brodwin said,"I think that shows a good amount of an increase of velocity at an angle, which can lead to a real world application of going down a incline and increasing in speed. Especially if a police officer were to radar you, you could possibly get out of a ticket by using that. And say if my angle incline was big enough, was I going fast enough to really speed that much? Or am I just letting off the gas to coast type thing. So their really trying to see if the weight of my car was making it go that fast, or was it me really pushing and applying enough force."