Super Bowl Menu Idea's for Broncos Fans
Super Bowl kicks off with the Denver Broncos vs. Carolina Panthers this Sunday and here is a day full of recipes to keep up with the Broncos Spirit.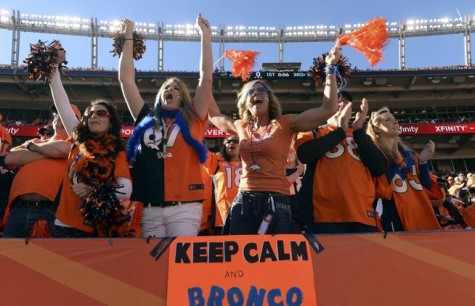 The Super Bowl kicks off this Sunday so here are some Broncos inspired meals to keep families satisfied through the day.
Appetizer: Corn Salsa: To make this recipe, add chopped onion, sweet corn, orange bell pepper,  Jalapeno, and cilantro. Add in honey, crushed red pepper, lime juice and salt and pepper to taste and enjoy. For the full recipie, click the following link: http://allrecipes.com/recipe/187625/easy-corn-salsa/
Lunch: Stuffed Poblanos: Add uncooked rice with water to a pot and bring to a boil, then simmer according to package instructions. While the water is simmering use the stuffed peppers. Slice the peppers in half and clean them, then place the peppers in a baking dish. Skin the peppers side up and broil for about seven minutes. Then, flip the peppers and boil for seven minutes more. Next, drain and rinse the black beans.
In a large microwave safe bowl, combine: beans, onions, salsa, corn, some shredded cheese and cumin and season with salt and pepper to taste. This is the filling. When the rice is finished, combine with the filling. Heat the filling until warm then place the pepper halves skin side down in a baking dish, and spoon the filling into each half. For the full recipie, click the following link: http://www.acouplecooks.com/2010/09/stuffed-poblano-peppers/
Dinner: Simple Crockpot Chicken Chili: 1. Cube pepper jack cheese. 2. add beans (undrained) and salsa, shredded chicken, cumin and 8 oz of pepper jack cheese (cubed) into the crockpot and cook for 4 hours. For the full recipie, click the following link: http://www.101cookingfortwo.com/ultra-simple-crock-pot-white-chicken/
Dessert: Quick and Easy Fudge Brownies: Start by preheating your oven to 375 degrees Fahrenheit and grease a pan. Next, combine all of the ingredients and stir until smooth. Then, spoon all of the batter into the prepared pan. Bake for 25-30 minutes and let it cool before cutting. For the full recipie, click the following link: http://www.kingarthurflour.com/recipes/quick-and-easy-fudge-brownies-recipe
For more Broncos inspired meal ideas, check out Pinterest and 9news for more ideas.