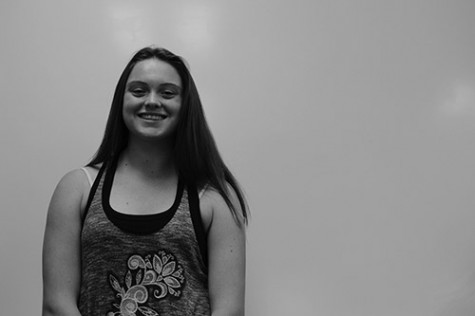 A junior at Smoky Hill, Kayla is in her first year of newspaper. She doesn't know why she is in newspaper, but she is learning on how to write articles. Newspaper also will help her see the world in a different perspective. That will also teach her to be more creative. Kayla likes to write which helps her a lot in newspaper. The deadlines in newspaper help her in school with my classwork and my homework.  
She is on the JV volleyball team. She has been playing since she was in the 5th grade. Her position is outside and right side hitter. Her team practices everyday after school. We have games every Tuesday and Thursday. Kayla's volleyball season ends October 22, 2015. She is sad that it is ending, but she will play club volleyball. Club volleyball is outside of the school. My club's name is No Limits. She will practice one day a week and have tournaments, and games on Saturday. Kayla is super excited to have club season start soon.
She got her first job at Family Sports Center. She applied at Family sports center 5 times. Kayla works with her best friend Amber Badger.  They enjoy working together. Kayla enjoys working with her co-workers.
Kayla is an only child and both of her parents still are together. She gets a lot of what she asks for from her parents. She is very grateful for having both of them. She does wish they wouldn't fight as much.
She is thinking about the colleges she wants to go to. Kayla wants to go to college for science or photography. She doesn't know what college yet, though. Kayla also wants to play volleyball in college.
Kayla Cushing, Staffer
May 13, 2016

Is The Drama Really Worth it?

(Story)

May 11, 2016

Correcting Bad habits

(Story)

Feb 23, 2016

Preparing for Poppins

(Story)

Feb 21, 2016

Preparing for Poppins

(Story)

Jan 21, 2016

Vanishing Tips at Dunkin' Donuts

(Story)

Jan 14, 2016

Boys Varsity Basketball Game

(Story)

Sep 23, 2015

Buff Puff Volleyball is Coming Up

(Story)