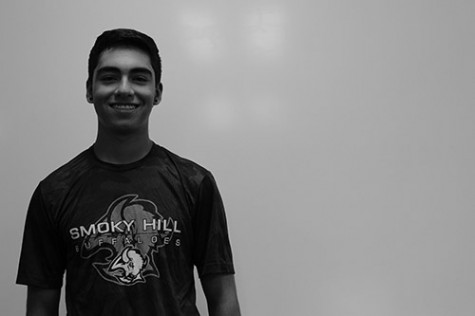 In his second year in newspaper at Smoky Hill High School, Issac Rodriguez spent a lot of his free time writing stories. His passion for writing is the sole purpose he is in newspaper. Newspaper helps him improve his writing skills. Issac is not the kind of person to put himself out there, expand his perspective on meeting and talking to people. Last year it was much harder to talk to people because it was a new environment and Issac didn't know anyone let alone interview them for an article. He knows that students can be difficult so he wants to help as best he can.
The reason Issac stayed in newspaper because the atmosphere is always positive and it's a great working environment. Newspaper helped to make Issac a much better writer and expand his vocabulary. Now an editor he will have the ability to see other students work and make corrections that will help him to see mistakes in his own writing. Issac hopes to be a good editor, so that means he will be able to give good advice that is helpful. Advice that he would like to share is some ideas on how to get more and better quotes.
Outside of class he plays baseball for Smoky Hill High School. Issac spends a lot of time on the field to improve his performance during games. He pitches and plays in the outfield which are important positions in high school. Issac also does archery and still shoots at a distance at or greater than 30 meters using his olympic style recurve.  
Issac Rodriguez, Editor
May 19, 2016
May 01, 2016

DECA Student in Nationals

(Story)

Mar 18, 2016

Donate your shoes in Soles4Souls box

(Story/Media)

Mar 06, 2016
Feb 26, 2016

Students are doing WHAT to substitutes?

(Story/Media)

Feb 14, 2016

AVID is Accepting Students for a Blood Drive

(Story/Media)

Feb 04, 2016

Join a Sport and Improve Yourself

(Story/Media)

Jan 27, 2016

DECA Marketplace raises money for Make-A-Wish

(Story)

Jan 20, 2016

Portrait Photography

(Story)

Jan 13, 2016

Struggles of getting to school

(Story/Media)

Dec 10, 2015

Teenagers Sexting in High School

(Story/Media)

Nov 19, 2015

Concussions in Football

(Story/Media)

Oct 22, 2015

Police use Social Media to Fight Crime

(Story/Media)

Oct 02, 2015

Students Break up Over Text

(Story/Media)

Sep 17, 2015

Pledge of Allegiance

(Story/Media)

Sep 10, 2015

Here come the Emoji

(Story/Media)

Sep 05, 2015

Securing the school

(Story/Media)

Sep 03, 2015

Be yourself

(Story/Media)

May 24, 2015

Freshman on Varsity

(Story/Media)

May 16, 2015

Tie-dying in Chemistry

(Story/Media)

May 08, 2015

Stay healthy and active

(Story)

May 01, 2015

Sportsmanship

(Story/Media)

Apr 20, 2015

Anniversary of Columbine

(Story)

Apr 11, 2015

Encounter with Mr.Puga

(Story/Media)

Apr 07, 2015

The duties of a Lifeguard

(Story/Media)

Mar 19, 2015

Fast Food + Education

(Story/Media)

Mar 05, 2015

Smoky's first female baseball player

(Story/Media)

Feb 24, 2015

The teaser of The Wizard of Oz

(Story)

Feb 19, 2015

Technical Theater

(Story/Media)

Feb 13, 2015
Feb 06, 2015

An Outbreak Strikes

(Story/Media)

Feb 02, 2015

"Dodge, duck, dip, dive and dodge"

(Story/Media)