Sources Of Strength Week
Sources of Strength Week is a way to spread Sources of Strength Week is a way to spread positivity throughout Smoky Hill High School throughout Smoky Hill High School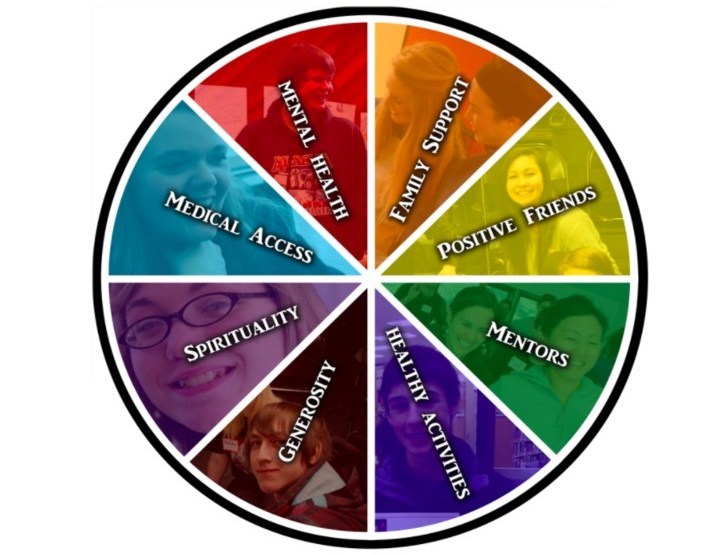 Smoky Hill High School is spending an entire week dedicated to the Sources Of Strength. The Sources of Strength each represent a positive way that people share their voices. This week each day is dedicated to a certain strength on the wheel. " This is the first year Smoky Hill High School is doing sources of strength week and I think it's a really good way to show off positivity and just overall give back to Smoky Hill High School," Elise Goldberg said.
Monday started with the color green representing the mentors here at Smoky. We celebrated this by writing down the people most trusted at Smoky and putting them up on a wall in activities in the shape of wings. 
Tuesday represented the color black meaning generosity. In order to show generosity Smoky held a miracle minute in which we donate money for the Smoky Hill Thanksgiving project. 
The Thanksgiving project is a way that Smoky Hill gives back by donated food to families in the community in need. "I personally enjoy when Smoky Hill does the miracle minute. It feels really good to help and give back to those in need," Ethan Wohlert said. 
Wednesday shows off positive friends. The color for this day is yellow. During lunches the school will have photo booths during both lunches and will be giving out Kona Ice in the parking lot after school. The shaved ice will be on sale for one dollar and will be free to the seniors. 
The color for Thursday is blue. Blue is for practicing healthy activities at school and in your personal life. These activities are here to try and help you relax if you are going through something stressful or overall just help you unwind and gain overall clarity. During school there will be many healthy activities posted around the school. In the library you can go color, play board games in the resource centers, or do karaoke in the cafeteria. After school on Thursday there will also be a home volleyball game starting at 6:30 PM. 
To end the week off, Friday is a mental health day. The color for mental health is red. For this day they will be showing Inside Out during 3G, in the auditorium. "I am honestly excited that Smoky is showing Inside Out for mental health day. Watching a movie and getting away from school work even just for a little bit really helps me relax," Jose Blea said.  After school on Friday there will also be a red out football game starting at 7:00 PM at the Stutler Bowl.