Smoky Hill's Incoming App
Smoky Hill has an incoming app for students to use in the upcoming years!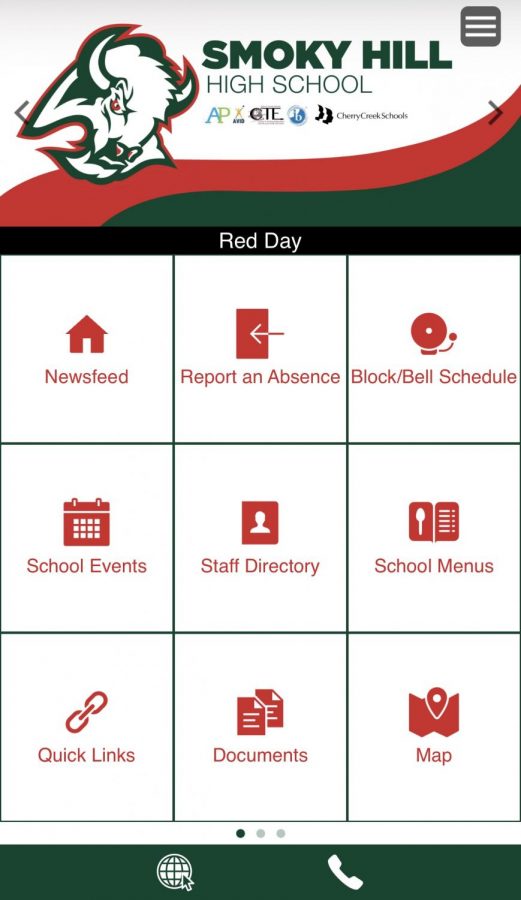 Zazi Hunsucker, Staffer
May 9, 2019
With technology being implemented more and more in schools, with simple things like laptops being upgraded, it's come as no surprise that Smoky Hill High has launched an app for its students to use in the upcoming years!
Carrie Faust, teacher and publication advisor, was in charge of being the contact point for the app being brought to life at Smoky. "I'm helping set it up for the way we want to use it," Faust said. The app was created using Schoolinfoapp, and allow for students to be more productive. "For the kids to have their ID on their phone, to be able to do passes on their phone, to get daily announcements from us on their phone, an just help us all be on the same page," she said. "I think it's going to allow for more functionality, and communication. I think it's tough these days, you guys get information from so many different places, and we're trying to do is concentrate it in one place."
The app includes helpful links such as: putting a hall pass in that a teacher has to sign off on, the school's schedule on the app, a school's newsfeed on the home page, reporting an absence, school links, staff directory, and even a page dedicated to the school's menu in the cafeteria for that day.
Sometimes, when students leave class, they claim that they never know how long they've been gone for. Students don't really focus on checking the time much. But with these new hall passes implemented, it gives the students exactly five minutes to leave class, take care of things, and then come back, and even notifying the student how much time they have (in their notifications!)
Tori Griffey, a junior at Smoky Hill, likes the app in general. "I think it's a really good idea, I think it's going to be better for freshmen and sophomores, who are new to the school, because it'll help them see different things around the school," she said, "I personally don't like the hall pass situation, because what if something happens and you need to take more than four minutes?"
Calling your child out of school can be confusing for parents occasionally. But with this new app, it not only has the number of the attendance voicemail line, but also the attendance office itself, as well as both the red and green deans, making it much easier for parents to access such resources. "Parents have access to the app, they just won't be able to login as a student" Faust said.
All in all, for the upcoming classes of Smoky Hill, it seems as if it's technology's time to shine.