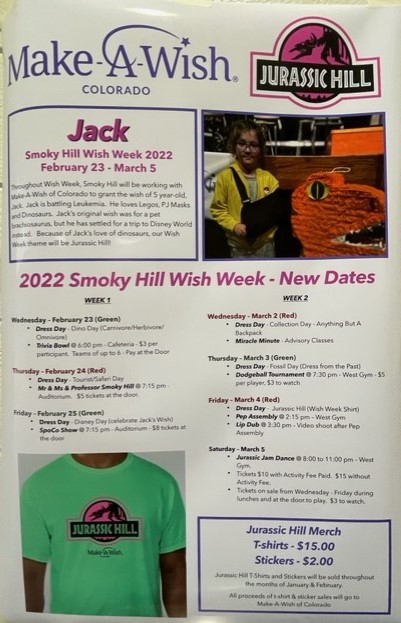 With the number of COVID-19 Cases there have been in and around our school this year, SHHS officials decided in January to push back this year's Wish Week to the last week of February and the first week of March, splitting Wish Week into two separate weeks and adding a school dance to top it all off. This has many people, including the Wish Kid, Jack, excited for what is to come. 
Staff and students alike at SHHS have been working hard to prepare for this year's wish week. Senior Kaitlyn Potter, who is a part of the Student Government, said, "This year is gonna be super exciting we're going with a dinosaur theme as you might have seen around the school we have lots of dinosaur things up for Jack who is super into dinosaurs. His original wish was to have a pet Brachiosaurus, so we really wanted to go with that theme." Potter went on to say, "We also have a dance attached to it, which should be really fun this year. We're trying to kind of push a lot of new events. We have SPOCO [Spontaneous Combustion], which is a big part of it now, which we didn't have before and we're doing something with simply singing so we have a lot more events than we have in past years to get this done."
SHHS Staff has also been working hard to make Wish Week happen, trying to make everything perfect for Jack to be able to come to the Pep Assembly. Wish Week was originally supposed to happen when students return from Winter Break, but due to complications concerning COVID-19, SHHS Admin decided to push it back to late February and early March. This was all for Jack's safety, of course, so it was worth it. 
Scott Cohen, the SHHS Activities Director, gave a list of activities that includes:
Wednesday, Mar. 2
Dress Day – Anything but a Backpack Day
Miracle Minute – Donate your Money to Jack during Advisory!
Sweet 16 Boys Basketball Game – Eaglecrest HS @ 7:00 PM
Thursday, Mar. 3
Dress Day – Fossil Day (Dress from the Past or Old Wish Week T-Shirt)
Chick-fil-A Fundraiser – Chambers & Parker (Say You're with SHHS)
Pack the Pool – Boys Swimming Meet vs. Arapahoe @ 5:00 PM
Dodgeball Tournament – 7:30 PM in the West Gym ($5 per player; $3 to Watch)
Friday, Mar. 4
Dress Day – 2022 Jurassic Hill Wish Week Shirt (Purchase in Activities)
Pep Assembly – 2:15-3:30 PM in the West Gym!
Lip Dub – 3:30 Pm (Filmed Directly after Pep Assembly)
Saturday, Mar. 5
Jurassic Jam Dance – 8:00-11:00 PM in the West Gym
Tickets $10 with Paid Activities Fee; $15 Without
Tickets on Sale Wed-Fri During Lunches and at the Door!
Other students are excited for Wish Week as well. Senior Carter Ambrosio said, "My favorite part of Wish Week as a whole is the dodgeball tournament because that's where my friends congregate, but the real purpose of Wish Week is to bring you and your friends together and to give back to the local community, it gives you a good feeling to know that you're helping a kid with a deadly disease to get their wish granted, and that's what really matters."