Sanitization in Classrooms
Hang on for a minute...we're trying to find some more stories you might like.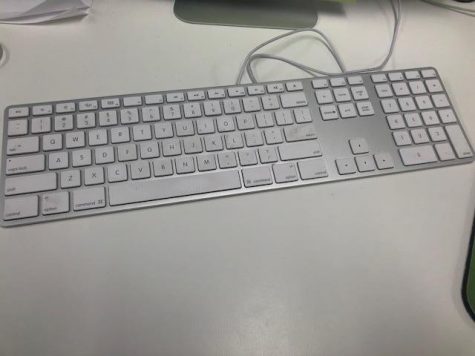 Useful utensils in the school such as computers and silverware carry mounds of bacteria, but none can be harmful right?
As you sit in the lunchroom you recall the "good days" of when there was a sink in the cafeteria in Indian Ridge, and your fellow peers would line up and wash their hands before eating. But now due to sinks not being immediately in the lunchroom the students have to make the choice of sanitization or food.
Most students leave immediately from their classrooms to the lunchroom to get a good spot in the lunchroom. The students usually involved in this practice believe that the forks or spoons they use will protect their food from bacteria, but how many times have you've seen a student put their whole hand into the cup of utensils to try to fish one out.
Sarah Miller RN, Keris Krennhrubec, and Diana Zuckerman from the National Center for Health Research said in a article called, Are There More Bacteria on Computer Keyboards Than Toilet Seats said, "Even more disturbing, research by University of Arizona researchers also found that the average desktop has 400 times more bacteria than the average toilet seat. That study took samples from offices across the United States, and also showed that women's desks tended to harbor more bacteria than men's."
Most classrooms use computers as a means of research, writing assignments, or as a means to practice a skill, so there's a fair chance that at least someone else touches the chromebook before you and spreads the bacteria on their hands onto the computer.
From the same article called Are There More Bacteria on Computer Keyboards Than Toilet Seats? it says most of the bacteria found by researchers are types that tend to live on people, usually in our skin and in our mouths and nasal passages. So it is likely that most of the bacteria came from our hands although many of these bacteria won't hurt you unless your immune system is weak because of another illness. It could still cause you to have an infection if you have a cut on your finger(s) (even a tiny one you can't see)."
So far the poll in Smoky Hill states that 75% of people wash their hands, but the 25% that don't can still spread their bacteria whether it be by fishing in the utensil bucket, or by touching the table. Having good sanitization is a group effort and all must do it, since bacteria only needs one person to spread it.