On the border
Trump's potential border threat has many people worried, including students at Smoky Hill High School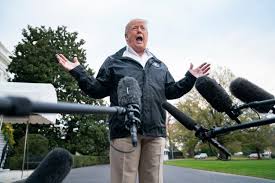 Zazi Hunsucker, Staffer
April 8, 2019
Hang on for a minute...we're trying to find some more stories you might like.
"If they don't stop 'em, we're closing the border,"
These were the words uttered by President Donald Trump, in response to wanting Mexico to do more about the illegal immigrants getting into the United States, despite being warned of the implications on the economics, and causing disrupt throughout border towns.
In order to prove he is serious, Trump has to take larger actions to prove that Mexico needs to do something about the travels. But according to varying news companies, Trump has been warned several times during several meetings about what exactly would happen if he were to shut it down.
Senior, Trina Vu, doesn't think that closing down the border would be a terrible idea. "I personally think that this decision is not smart at all whatsoever on our so called "president's" part because Mexico is one of our biggest trading partners, and closing the borders would do more harm than good. It would be detrimental to both the U.S. economy, and the Mexican economy," Vu said.
Not even factoring in the economical implications of the situation, thousands of people would be affected emotionally. Hundreds of people cross the border every day for things like school and work. Closing it down would prevent them from their rights to work and education, leaving them in a state of constant worry.
Alex Rohs has some clear thoughts on the situation. "If you look at his decision without any thoughts of the effect it might have on the economy, I suppose it makes sense. With an increase in drug trafficking this would be the obvious solution. However, shutting down the border would have unexpected consequences such as a sudden collapse in the economy, price increases in most stores, etc," Rohs said.
"It is also unfair to limit an entire populations entrance into the US due to an increase in cartel activity. A smarter option would be to implement higher security border checkpoints with more advanced technology that would presumably make it very difficult to smuggle drugs or people into the US," Rohs says.