Chinese Coronavirus
A new virus in Wuhan is spreading across China, and the globe at an alarming rate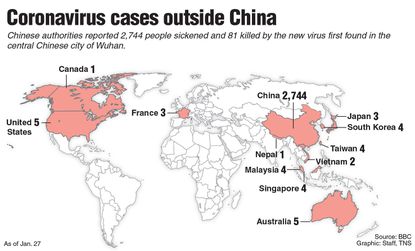 An EAS alert goes across the screen, signaling that a virus is sweeping across the United States. Killing hundreds of thousands. Fortunately, this scene hasn't played out in recent U.S. history. That could all change with a new virus coming out of Hubei Province, in China. 
Throughout the world there are around 4,500 cases. The number of known cases of the new virus rose by nearly 60 percent overnight. A shortage of test kits has led experts to warn that the real number may be higher. Chinese state media stated on Tuesday that 106 people had died from the virus. The epicenter of the virus is the central Chinese city of Wuhan. 
Nicknamed the "Wuhan Coronavirus", it has been spreading rapidly in China since late December. Coronaviruses are a large family of viruses whose effects range from causing the common cold to triggering much more serious diseases, such as severe acute respiratory syndrome, or SARS.
Junior Cecilia Smith was fairly worried about the virus' quick spreading in the Hubei province of China. "The fact that it is spreading so fast and in such a densely populated area is scary, there has been multiple cases in the United States, some one in Europe and that stuff," said Smith. The virus has been spreading so much in the Hubei province they've locked down the capital of Wuhan.
The virus has been confirmed on four continents. Some of the infected countries include: Thailand, Japan, Hong Kong, Taipei, France, Germany, China, Macau, the U.S., and the Republic of Korea. Symptoms of the virus include: runny nose, headache, cough, sore throat, fever, and not feeling well overall. The virus is thought to have originated out of a fish market in Wuhan, Hubei Province in central China. The Lunar New Years was one of the worst times for a virus to be in China, as citizens are traveling all over China and around the globe. "I heard over 100 people have already died, its really really scary," said junior Sydney Borrego.