CBA Band Competition
On Tuesday, March 4 both Symphonic Band and Wind Symphony left early from fourth period to attend a competition and clinic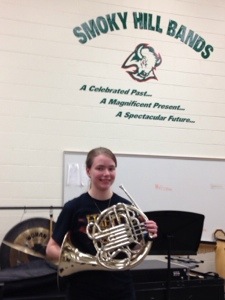 with Colorado Bandmasters Association (CBA) at Grandview High School. Afterwards, each band received a recording of their performance with feedback from the judges. No specifics have yet been given as to how the Smoky Hill bands did.
Sophomore Elisabeth Bristol, who plays the french horn in wind symphony, really enjoyed the experience.
"Seeing how we compared to other bands was very helpful and interesting," Bristol said. "Most of all, we got to have fun making music for other people who had probably never heard the pieces before. Also, the clinic and the instructive feedback made the experience even better."
The trip for CBA is an annual occurrence. Various schools in the region compete to see how they can improve and which groups can move on to the state level. Smoky almost always does well and continuously aims to do better each year.
Leave a Comment